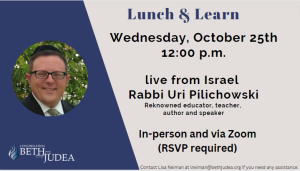 ABOUT RABBI URI PILICHOWSKI:
Rabbi Uri Pilichowski grew up in Fair Lawn, New Jersey. Rabbi Pilichowski studied in Mevaseret Zion for eight years, earning a Bachelor of Talmudic Law and Rabbinic Ordination.
Rabbi Pilichowski then moved to Beverly Hills, CA to become the Assistant Rabbi of the famed Beth Jacob Congregation. While in Los Angeles Rabbi Pilichowski taught in 5 local day schools and created a national model for teen and youth departments. Rabbi Pilichowski then spent three years as one of the rabbis in The Boca Raton Synagogue and was Rosh Beit Midrash and Gap Year advisor at Scheck Hillel Community School in Miami, FL.
An Israeli citizen and former member of the Israel Civil Defense, Rabbi Pilichowski prided himself with his involvement with the Pro-Israel community in America. He created the first teen pro-Israel group in the country that taught students to advocate in Congress for a stronger US-Israel relationship. His students gained a national reputation that has even reached the White House.
In July 2014 Rabbi Pilichowski moved his family to Mitzpe Yericho,Israel. Rabbi Pilichowski continues to teach students from Israel via Zoom. He has taught in schools in Miami, Chicago, Atlanta, Houston and Los Angeles. He is also the director of Israel Advocacy for Southern NCSY. He teaches high school students Talmud, Jewish philosophy, Bible and Israel Advocacy.
Rabbi Pilichowski also founded and directs "Crossing the Line."American students studying in Israel are taken to Judea and Samaria and shown that Israelis have every right to live and govern "Yesha" and treat Palestinian Arabs fairly and with all human rights.
Rabbi Pilichowski also enjoys writing and speaking; he is the author of three books, a book on time management, on the weekly Torah portion and on the Jewish festivals. He has been a scholar in residence in synagogues across America, from Richmond, VA to Santa Barbara, CA. Rabbi Pilichowski is happily married to Aliza and has six wonderful children in Mitzpe Yericho.